Windham Mountain transportation from New York City
Pairing small-town Catskills charm with 21st century ambiance, at just over two hours from the New York metro area, we're the Northeast's year-round outdoor lifestyle destination! Closer than Vermont and with more vertical than the Berkshires, Windham Mountain Resort offers big mountain skiing & riding close to home. 55 years of commitment to snow sports has always attracted guests to Windham Mountain Resort, and 5 new trails in the past 3 years proves our passion.

Most recently, Windham Mountain Resort has invested over $15 million in capital improvements to provide the Northeast's premier alpine lifestyle™. In addition to 97% snowmaking on 54 trails totaling 285 skiable acres, we also offer an inn, golf course, alpine spa, adventure park, lift -served mountain bike park, and three restaurants. Windham Mountain Resort has it all for winter, spring, summer, and fall!

Exceptional enhancements to our offerings means we must also impress in connecting with our guests. An integral part of Windham Mountain Resort is creating memories that last a lifetime. From fourth generation life-timer families to first-timer couples, guests choose us because they desire fun and trust us to provide it. We live up to and exceed those expectations! Take a look around when you're on the mountain, and it's hard not to notice the extraordinary landscape that surrounds us.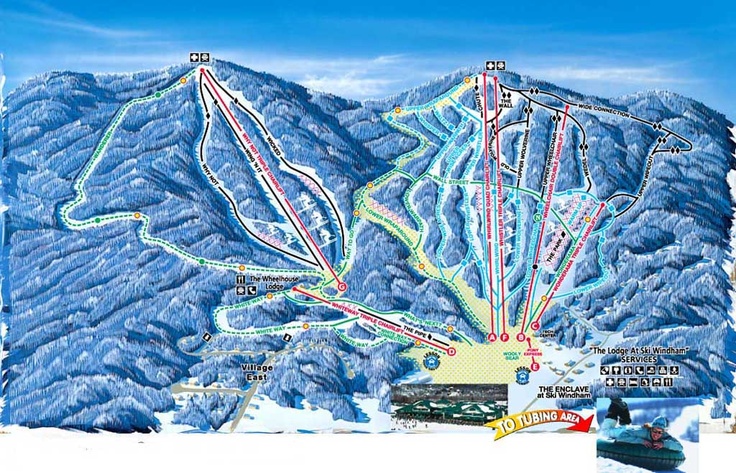 Description
Prices
Bus Stops
Terms
Skiing the mountain
Windham features 54 trails on 285 skiable acres. The trails are situated on two separate mountain peaks, known as East Peak and West Peak. Of the trails 13 are designated beginner, 24 intermediate, and 17 expert skill level. The mountain also features six terrain parks and night skiing on select, lower mountain runs. 98% of trails are covered by snowmaking.Windham Mountain is also home of the Adaptive Sports Foundation which provides the physical and intellectually disabled with lessons on how to ski, snowboard, bike ride, and a various amount of other types of sports.
Luxury Bus (roundtrip): $39.95
Luxury Bus (round trip)+Lift ticket -$79.95 (M - F)
Transaction fee 3%
Bus Pickup Locations:
6:30 AM @ 129 3rd. Ave. corner E14 Str. Manhattan
7:00 AM @ West 72 Str. & Broadway. Manhattan
Leaving Windham at 4:30pm.
TERMS & CONDITIONS:
Policies - Terms and Condition:
Our cancellation and no-show policies will apply only once your booking has been confirmed by COMFORT-SKI.COM
Cancellation Policy:
Cancellation made beyond 72 HRS. will qualify for a full refund minus the TRANSACTION FEE.
Cancellations made between 48hs. and 24hrs. will qualify for 90% refund minus the transaction fee.
Cancellations made within 24hs.- no refund will be issued.
Cancellations due to weather conditions will qualify for a full refund minus the transaction fee.
All GUEST UNDER THE AGES OF 18 MUST HAVE A PARENT OR LEGAL GUARDIAN SEND AN EMAIL AGREENING
TO THOSE TERMS WITH AN EMERGENCY CONTACT NUMBER.
ALL CHILDREN UNDER THE AGE OF 15 MUST BE WITH AN ADULT