Camelback Mountain transportation from New York City
Camelback Mountain ( Big Pocono ) itself reaches an elevation of 2,133 feet (650 m). There are 166 acres (67 hectares) of skiing & snowboarding terrain; the mountains have a total of 35 slopes (the longest of which is 1 mile(1,609 m), namely, the Nile Mile) and features a vertical drop of 800 ft (244 m), 15 lifts, including 2 high speed detachable chairlifts; the Sullivan Express and Stevenson Express, both quads. It is the largest ski resort in the Poconos. It has two terrain parks, the larger of which is now accessible only by ascertaining a park pass. Camelback also has the only Half Pipe in the Pocono Mountains. Camelback is also a member of the Burton Learn to Ride Program with a Learn To Ride Center, Freestyle Learn To Ride center, Women's Learn To Ride Center and Children's Learn to Ride Center. The resort was opened in December 1963. The mountain summit receives an average of 50 in (127 cm) of snowfall each winter. It has minimal snowmaking facilities on ski slopes, primarily relying on portable snow guns to create snow, and is 100% lit for night skiing.
BOOKINGS FOR THE FOLLOWING DATE MUST BE MADE BY 9:00 PM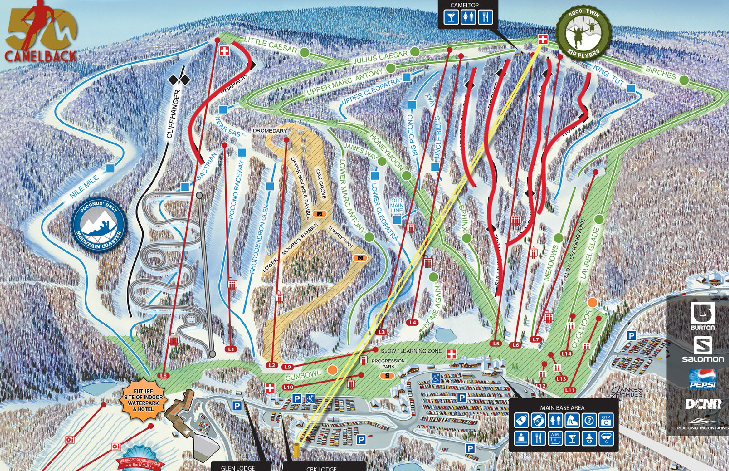 Description
Prices
Bus Stops
Terms
Camelback Mountain Resort is a ski and snowboard resort located in the Pocono Mountains region in Pocono Township and Jackson Township, Monroe County, Pennsylvania, adjacent to, and partially within Big Pocono State Park. In the 1950s when developers were working to expand the original solitary ski run, they negotiated with the then PA DER for permission to use a small portion of the state park for the ski area in exchange for $1 a year and the obligation to maintain the entire park.
Luxury Bus (roundtrip): $39.95
Luxury Bus (round trip)+Lift ticket -$79.95
Transaction fee 3%
Bus Pickup Locations:
8:30 AM @ 129 3rd Ave. corner E14 Str. Manhattan
9:00 AM @ West 72 Str. & Broadway. Manhattan
Leaving Camelback at 7:30 PM
TERMS & CONDITIONS:
Policies - Terms and Condition:
Our cancellation and no-show policies will apply only once your booking has been confirmed by COMFORT-SKI.COM
Cancellation Policy:
Cancellation made beyond 72 HRS. will qualify for a full refund minus the TRANSACTION FEE.
Cancellations made between 48hs. and 24hrs. will qualify for 90% refund minus the transaction fee.
Cancellations made within 24hs.- no refund will be issued.
Cancellations due to weather conditions will qualify for a full refund minus the transaction fee.
All GUEST UNDER THE AGES OF 18 MUST HAVE A PARENT OR LEGAL GUARDIAN SEND AN EMAIL AGREENING
TO THOSE TERMS WITH AN EMERGENCY CONTACT NUMBER.
ALL CHILDREN UNDER THE AGE OF 15 MUST BE WITH AN ADULT