Hunter Mountain transportation from New York City
Hunter Mountain is a ski resort located about three hours north west of New York City in Hunter, New York.
If you are searching for a place with impeccable natural views and perfect ski resorts, Hunter Mountain has lots to offer. Known as a four-season tourist destination in the Great Northern Catskills of Greene County, it is home to tricky terrain and trails suitable for different skill levels.
Hunter Mountain is a paradise for people, who want to add bright colors to their life and spend an adventurous weekend being surrounded with unspoiled natural beauty.
With the longest zipline in North America and canopy rides, it offers a wide range of adrenaline-including activities during the whole year. If you are traveling with your children, Hunter Mountain also includes some exciting kid-friendly activities allowing them to enjoy stunning atmosphere of this marvelous place. From exciting ski and riding schools to captivating annual festivals, Hunter Mountain is a destination that will bring you bright memories and exceptional experience.
ROUND TRIP $50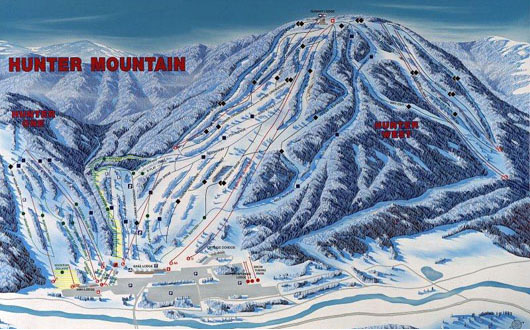 Description
Prices
Bus Stops
Terms
Reviews
Ski Hunter Mountain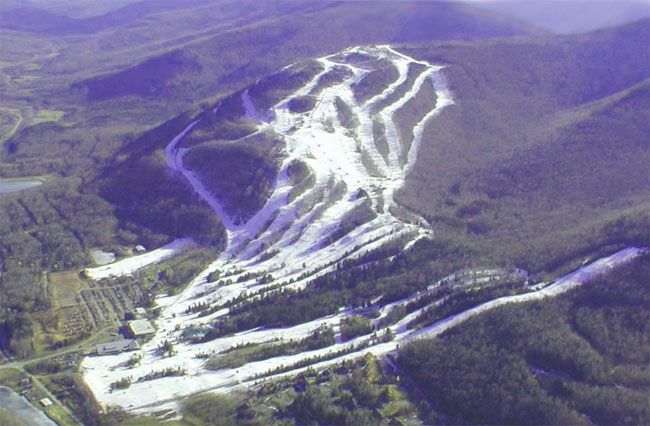 Slightly more intermediate and expert rated terrain versus other NY mountains, hence Hunter mountain can offer the experienced skier / rider a greater challenge. Otherwise, if you are just getting into the sport of skiing/snowboarding, Hunter's approachable beginner terrain can still serve as a perfect learning ground.
Hunter mountain also touts the largest Snow Tubing Park in the state of New York
Below we provide some fun facts on Hunter mountain:
58 trails and 11 lifts, including one high-speed detachable sixes, and one high-speed detachable quad
Top elevation is at 3,200 feet
Vertical rise of 1,600 feet from the base
Snowmaking covers 100% of the trail area of 240 acres
Uphill capacity of 16,990 / hour
240 acres of skiable terrain
2 terrain parks with features sometimes located off the trails
Hunter Ski - Get Rid of Stress and Spend a Weekend of Your Dreams
There is no better way to enjoy your holiday than to set off for a trip to Hunter Mountain. With its mesmerizing scenery, wide diversity of terrain suitable for riders and skiers of all ability levels, Hunter ski resort is your best chance to escape from the turmoils of everyday life and relax with no worries. Whether you are an avid skier or you are simply in love with beauty of snowy mountains, here everyone will find something to enjoy.
Hunter Mountain is a premier winter destination that encompasses an impressive array of impeccable terrain, vast range of facilities as well as gorgeous mountainside accommodations that will make your holidays as good as possible.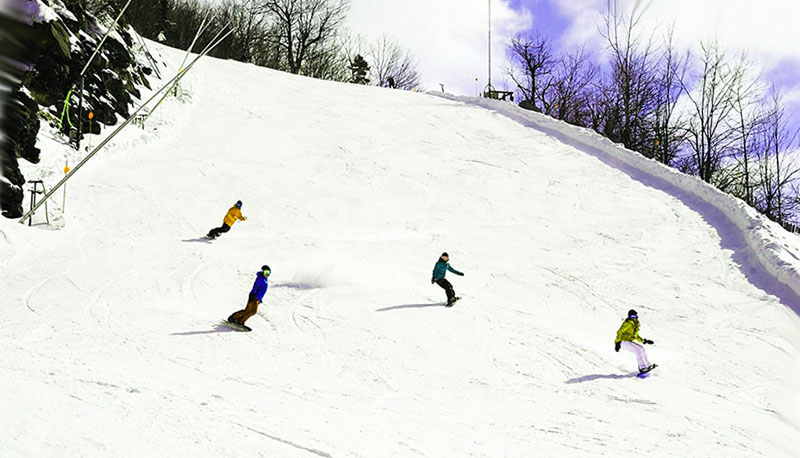 There are also lots of entertaining programs available for the whole family, so no one will get bored, and if you are lucky enough you may even enjoy one of the festivals annually held here. If you want to enrich your life with unforgettable memories, Hunter ski trip is a perfect option you are looking for and the best way to reach your destination is to rent a comfortable charter bus. Featuring all the latest modern amenities, it will make your trip extremely comfortable and safe, so grab positive emotions and enjoy your holidays.
Paradise for Adrenaline Seekers
There is no better place to plan your ideal ski resort than Hunter Mountain. Set off from New York and feel the magic of its mesmerizing atmosphere. Hunter Mountain ski resort includes three separate mountains that encompass a wide range of terrain that is suitable for skiers of all ability levels, so regardless of whether you are a first-timer or experienced rider, you will find the best possible solution for yourself. Hunter Mountain will surprise you with an exceptional sports program offering versatile options for skillful seasoned experts and intermediate skiers of different ages such as private lessons, special workshops, progression-sessions and many others. You can organize a bus ski Hunter Mountain trip and have a weekend full of pleasant emotions.
Visit Festival at Hunter Mountain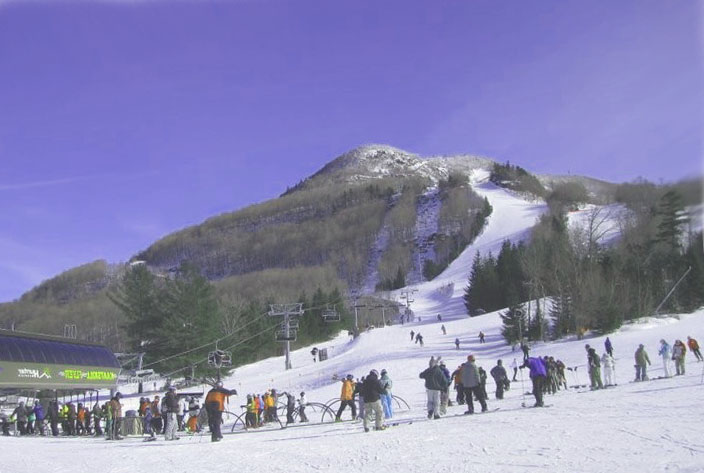 Do not miss your chance to be part of the annual festivals held at Hunter Mountain. Every year it is home to bright events where you can meet the world-famous artists, professional athletes or simply enjoy the magic of international festivals. You can visit events such as:
TrailBlazer Music Festival.

It usually lasts for 3 days and provides tourists with a chance to enjoy a wide variety of famous musicians performing their music. Have fun with your friends, dance and simply relax without thinking about your daily worries. Music festival is the best way to get rid of stress and burdening thoughts.
The annual TAP New York Festival.

This stunning festival will provide you with an excellent opportunity to taste around 400 of different types of beer made by New York's best brewers. It is held at the end of April and is also known as the largest craft beer festival in the state. You can also treat yourself with mouth-watering food pairings that will make the beer even tastier.
Hunter Mountain October Fest.

Experience the atmosphere of a real October Fest with its craft beer, typical German entertainment, a wide range of activities for kids and grown-ups as well as enjoy a fascinating aerial show that takes place here every year. You can enjoy live music, exceptional food and drinks and relish every moment of your unforgettable weekend.
Hunter Mountain is a spectacular location with fascinating natural scenery and a wide range of activities for the whole family. It is time to set off for an unforgettable bus trip to Hunter Mountain and have a weekend of your lifetime. Our bus rental service will provide you with a top-quality bus shuttle, so you will get to Hunter Mountain without any worries. We offer a superb charter bus option and reliable ground transportation to any destination.
Whether you want to plan a family ski trip or travel with your friend, Hunter Mountain is a marvelous tourist destination for everyone.
Luxury Bus (round trip): $50
Transaction fee 3%
Bus Pickup Locations:
6:30 AM @ 129 3rd Ave. corner E14 Str. Manhattan
7:00 AM @ West 72 Str. & Broadway. Manhattan
Leaving Hunter at 4:30pm.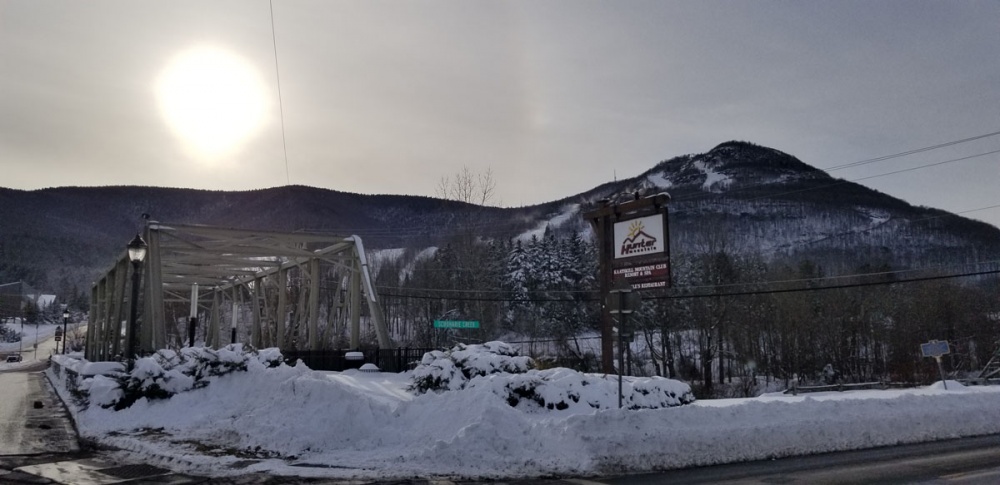 TERMS & CONDITIONS:
Policies - Terms and Condition:
Our cancellation and no-show policies will apply only once your booking has been confirmed by COMFORT-SKI.COM
Cancellation Policy:
Cancellation made beyond 72 HRS. will qualify for a full refund minus the TRANSACTION FEE.
Cancellations made between 48hs. and 24hrs. will qualify for 90% refund minus the transaction fee.
Cancellations made within 24hs.- no refund will be issued.
Cancellations due to weather conditions will qualify for a full refund minus the transaction fee.
All GUEST UNDER THE AGES OF 18 MUST HAVE A PARENT OR LEGAL GUARDIAN SEND AN EMAIL AGREENING
TO THOSE TERMS WITH AN EMERGENCY CONTACT NUMBER.
ALL CHILDREN UNDER THE AGE OF 15 MUST BE WITH AN ADULT
Reviews Thank you very much. The bus was comfortable and quick, I will take it again next time Every thing was excellent Trip was great!! Very comfortable luxury bus, with fully reclining seats. I slept the entire way!! I had a really good time on my trip to Hunter. The bus was one of the best.
Send a Review
Where do I meet the ski bus?
Do I need to be an experienced skier in order to go?
What should I bring?
Can I drive myself?
There are two major pickup locations we offer. The first one is at 129 3rd Ave. corner E14 Str. Manhattan and the second one is at West 72 Str. & Broadway. You can choose any option that is the most suitable for you and enjoy your trip.
Of course not. No matter whether you are a highly experienced skier or just a complete beginner, a bus trip to Hunter Mountain is available for everyone who is searching for adventure. You can always book a professional ski instructor to guide you through peculiarities of skiing and after a few hours, you will be able to hit the slopes too.
If you decided to go for a ski trip to Hunter Mountain, consider taking ski clothes such as gloves, ski pants, goggles, ski jacket as well as cash or credit card. In case you do not have all the necessary gear, you can easily rent it straight on the spot. And do not forget to take a positive mood with you!
No, driving yourself is prohibited, but we will match you with a highly experienced driver who will deal with all the driving issues. You do not have to bother yourself with parking or navigation. Let us take care of your ski trip, and rest assured that we will organize everything on a high level.